Another fabulous night of fashion commenced last night at the Omaha Design Center. Six more talented designers sent beautiful collections down the runway for the second Omaha Fashion Week showcase! The theme for the night was "Global Influence." Designers took inspiration from global locales in Africa, the Philippines, Portugal, and historic France, to destinations closer to home including our beloved Midwest prairies.
Juantiesha Christian, Ciara Fortun, Miranda Hanson, Jennifer Pool, Elda Doamekpo, and Breanne Reiss competed for the $500 cash prize, presented by SAC Federal Credit Union. The winner for the night will be announced on August 29th via social media. It will be hard to choose one winner from this showcase! "A few years ago, tonight's lineup would have easily been a finale, but now it's just a Tuesday and the week will keep getting better," producer, Nick Hudson mentioned.
The Collections:
Juantiesha Christian, Ready to wear collection encompassing bright and colorful designs. Inspired by the Spanish word "viva" meaning "live".
Ciara Fortun, Evening wear collection inspired by the traditional Filipino dress. Tied traditional culture into the modern looks of today.
Miranda Hanson, Ready to wear collection incorporating bold and fresh colors. Designs are flirty with a little bit of edge.
Jennifer Pool, Avant garde collection based on the life of the Chevalier D'eon. 18th century inspired styles combined with corsetry.
Elda Doamekpo, Evening wear collection redefining the definition of "African clothes". Combined both African print and modern textile.
Breanne Reiss, Ready to wear collection enhancing a "Nebraska sunset" color scheme. Inspired by the people and culture of the early-modern Nebraskan narrative.
Prior to the showcase, students from Joslyn's Kent Bellows Mentoring Program created live art on oversized canvases during the Pretty in Patina Pre-Party. It was amazing to see such young and talented artists create beautiful work first hand. They definitely put on a show for our guests.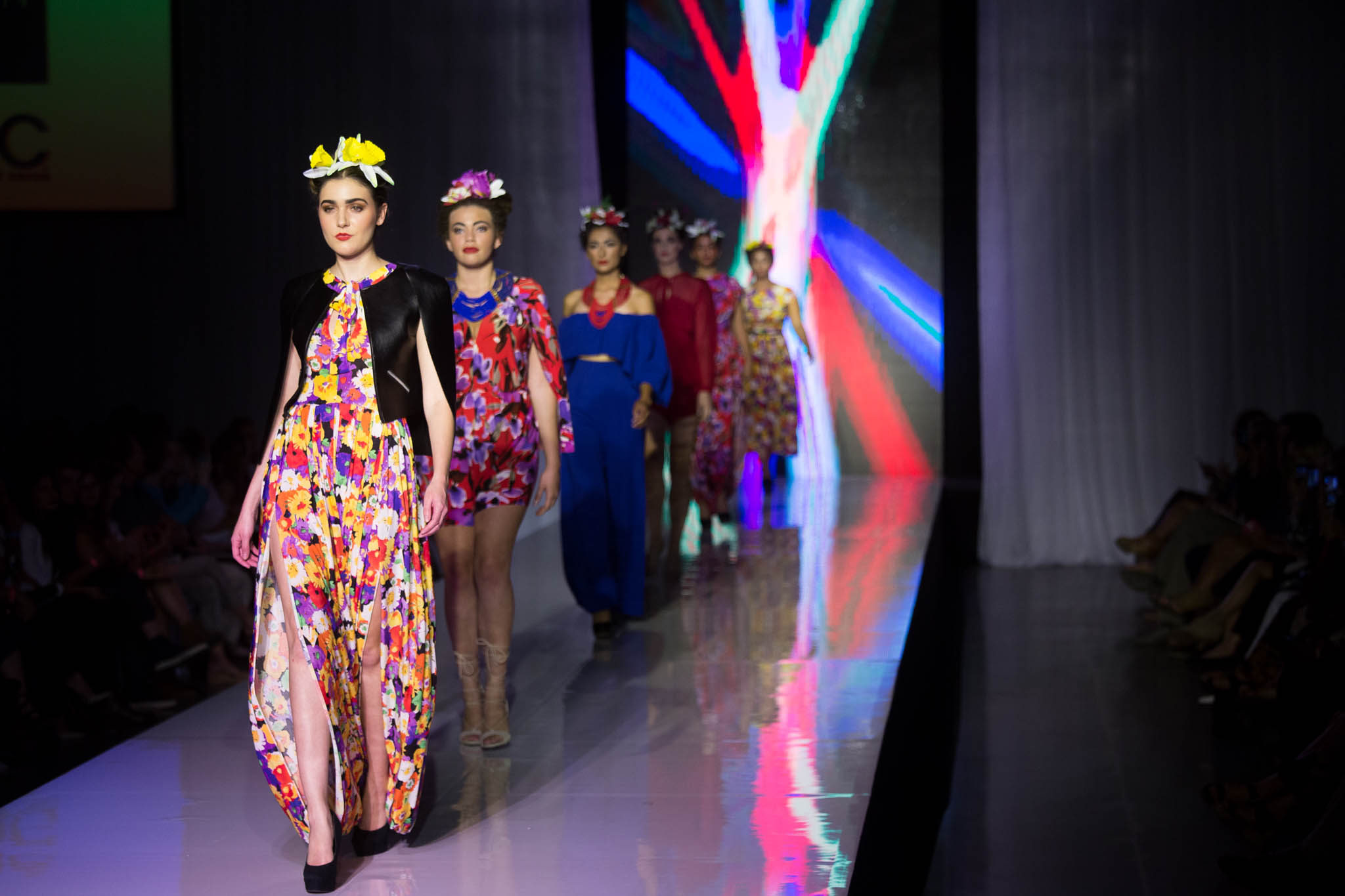 Photos by Heather and Jameson Hooton
Models by Develop Model Management
Tickets for the rest of the week are going fast! Be sure to head on over to omahafashionweek.com/tickets to get yours before it's too late. See you there!